I'm in San Francisco?!?!!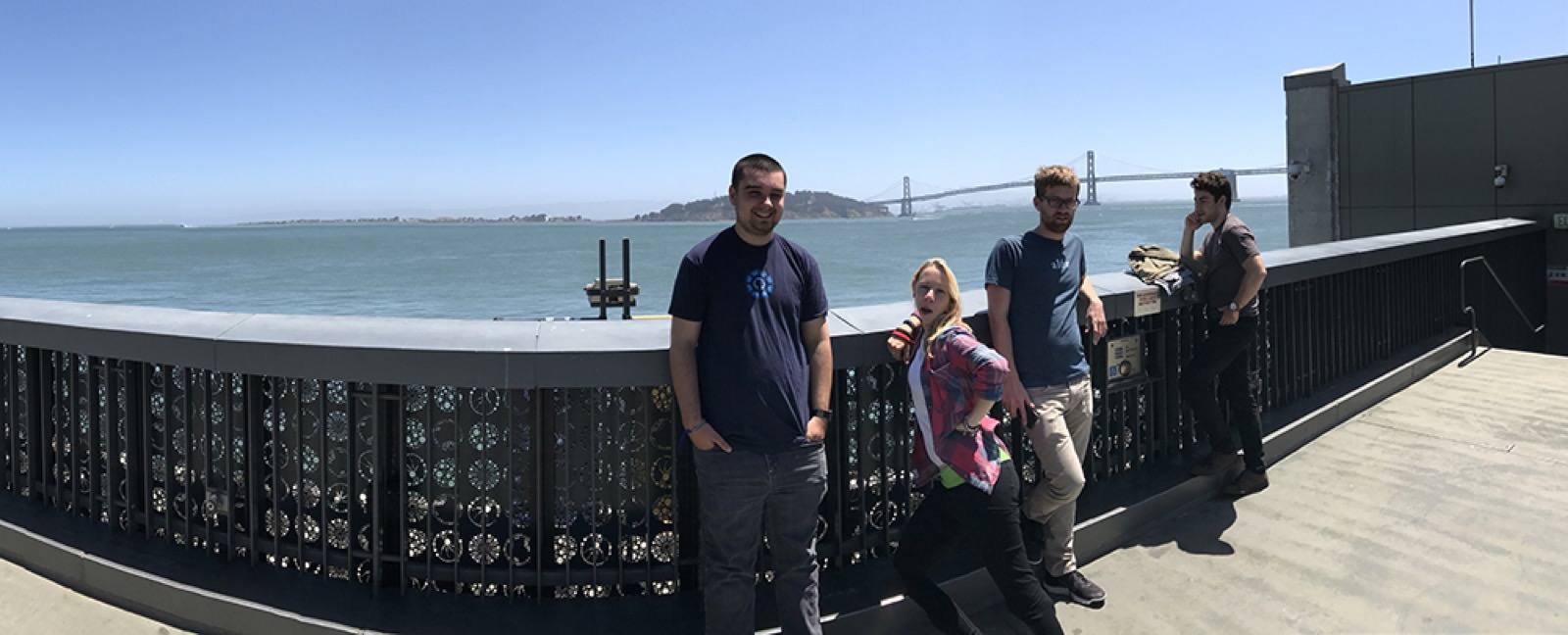 A little over a month ago I landed in sunny San Francisco for a summer of adventure as the product security intern at GitHub! The internship is unlike any other job I've worked at before, in a good way of course! On our first day all of the interns were greeted with a wonderful crepe breakfast followed by receiving some superb intern exclusive swag! The theme for the internship is Willy Wonka which is spot on since we truly got the golden ticket to an incredible internship. Our internship coordinator, Lisalou, has planned an abundance of activities to guarantee that we, the interns, get to: learn about the company, explore the SF Bay area, meet other talented hubbers, and most importantly have fun!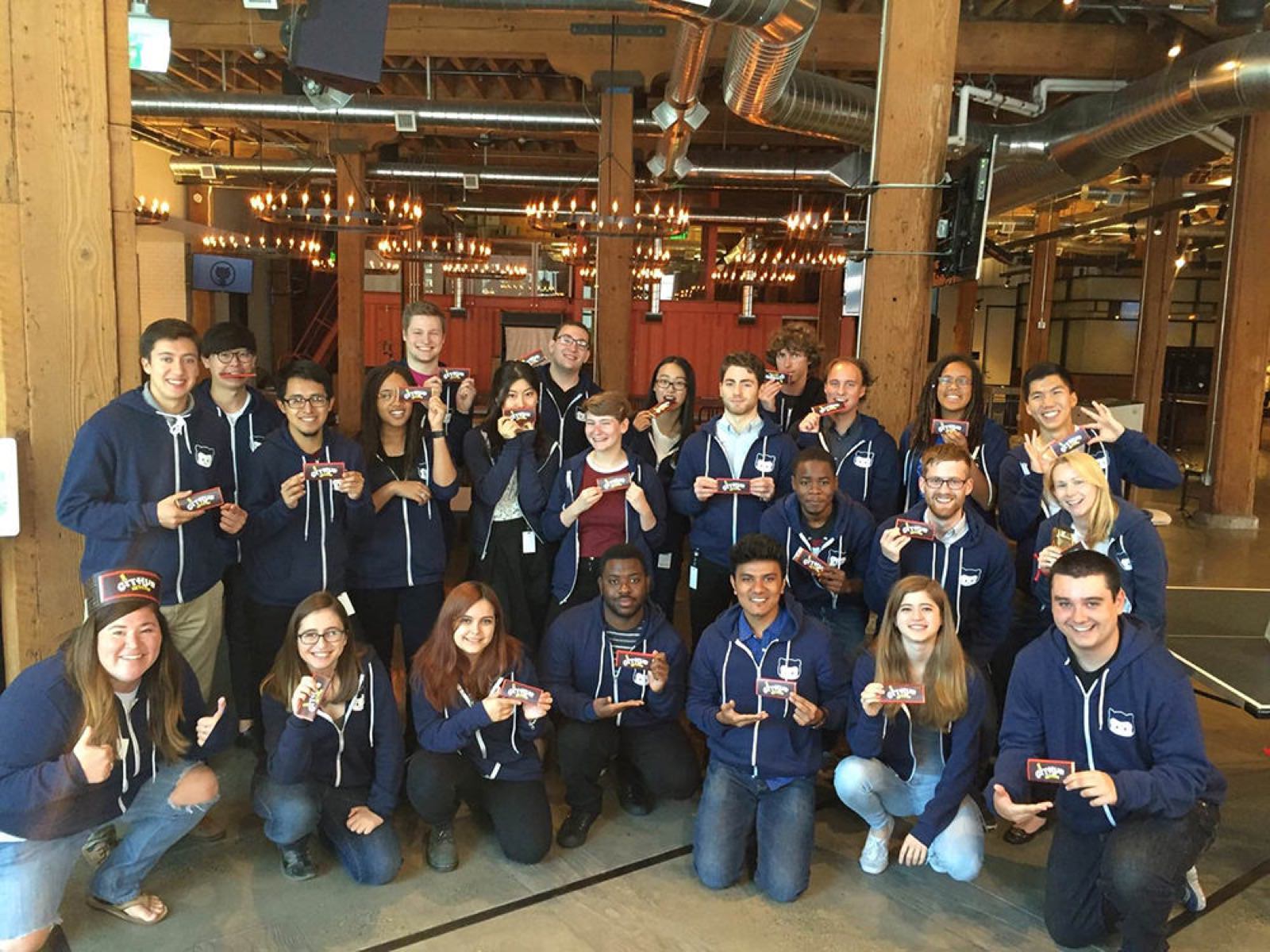 The GitHub HQ is probably one of the coolest buildings I've ever worked in! You won't find cubicles but you can find: a free SWAG shop, open concept work areas, a massage room, a gym, a coffee bar w/ a local barista, a bar bar (yes you read that correctly), a sleeping room (with hammocks), a library, a rooftop lounge area and much more! Every Tuesday and Thursday the office provides unique catered lunches with a variety of options. And just in case all of that wasn't awesome enough then you can also play with one of the many dogs that people bring to the office daily (shout out to scout & marley for coming over to get daily belly rubs in the morning)! There's so many unique places to work within the office that I sometimes forget I even have a desk.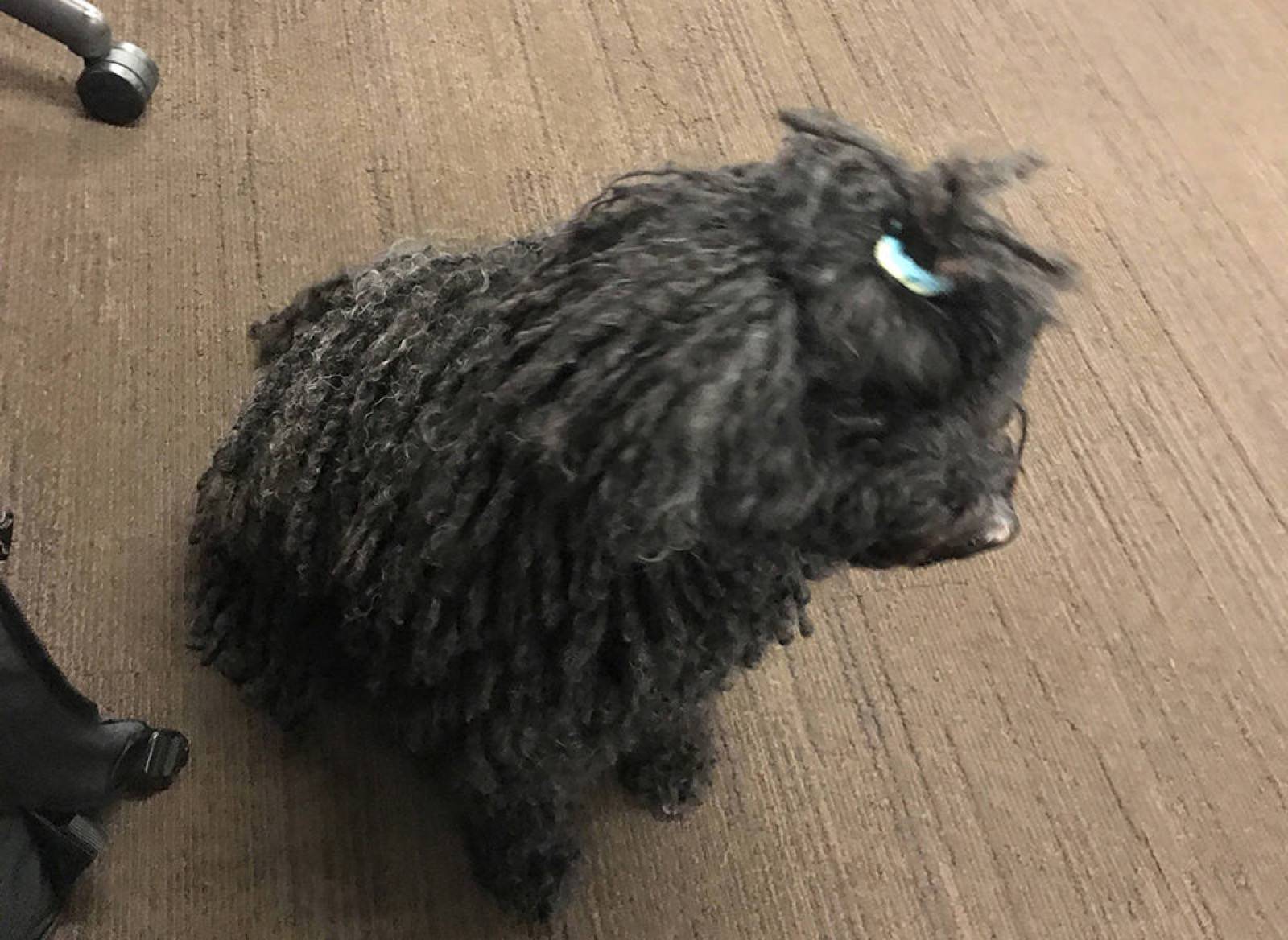 On a typical work day I roll out of bed around 9:30 and take the BART (subway system) followed by the MUNI (busses) to get to work. I live near 16th and mission station and work is near 2nd and Brannan which is about a 25 minute commute one way. Once I get to work I make myself a bagel or bowl of cereal at the kitchen. After breakfast I typically work at my desk until noon at which point I head downstairs, grab some lunch then and catch a game of pool or ping pong. In the afternoon, depending on my schedule, I like to roam around working in different areas of the office. Just this past week there was a new addition to the building with a massive library that is great if you need somewhere quiet to work. I usually end the day around 6:30-7:00 with a game of pool with some of the other interns. One thing I love about this job is that it isn't from 9 to 5 but instead I can wake up later and work later which is a huge win because I am definitely not a morning person. This works out well because the majority of my team is remote so we're mostly all from different timezones.
As an intern on the product security team I'm responsible for securing the GitHubs. GitHub maintains its own fork of Git which contains some code to extend the default functionality and my task ths summer is to work on one of these extensions. I've mostly been working in C which has been quite an interesting experience since I'm so used to the freedom of using Javascript. Debugging in C is pretty much just replacing * with & or . with -> until it compiles (Note: I'm not a pro… please don't actually do that to debug, lol). As a prodsec team member I have get the privilege of participating in the bug bounty triage rotation from which I've learned GitHub mostly receives invalid/low risk reports. Also last week I got to meet the entire app/prodsec team in person for the first time at our team mini summit. The team-building activity for our mini summit was blacksmithing at which we all smashed molten hot metal into kickass fire pokers.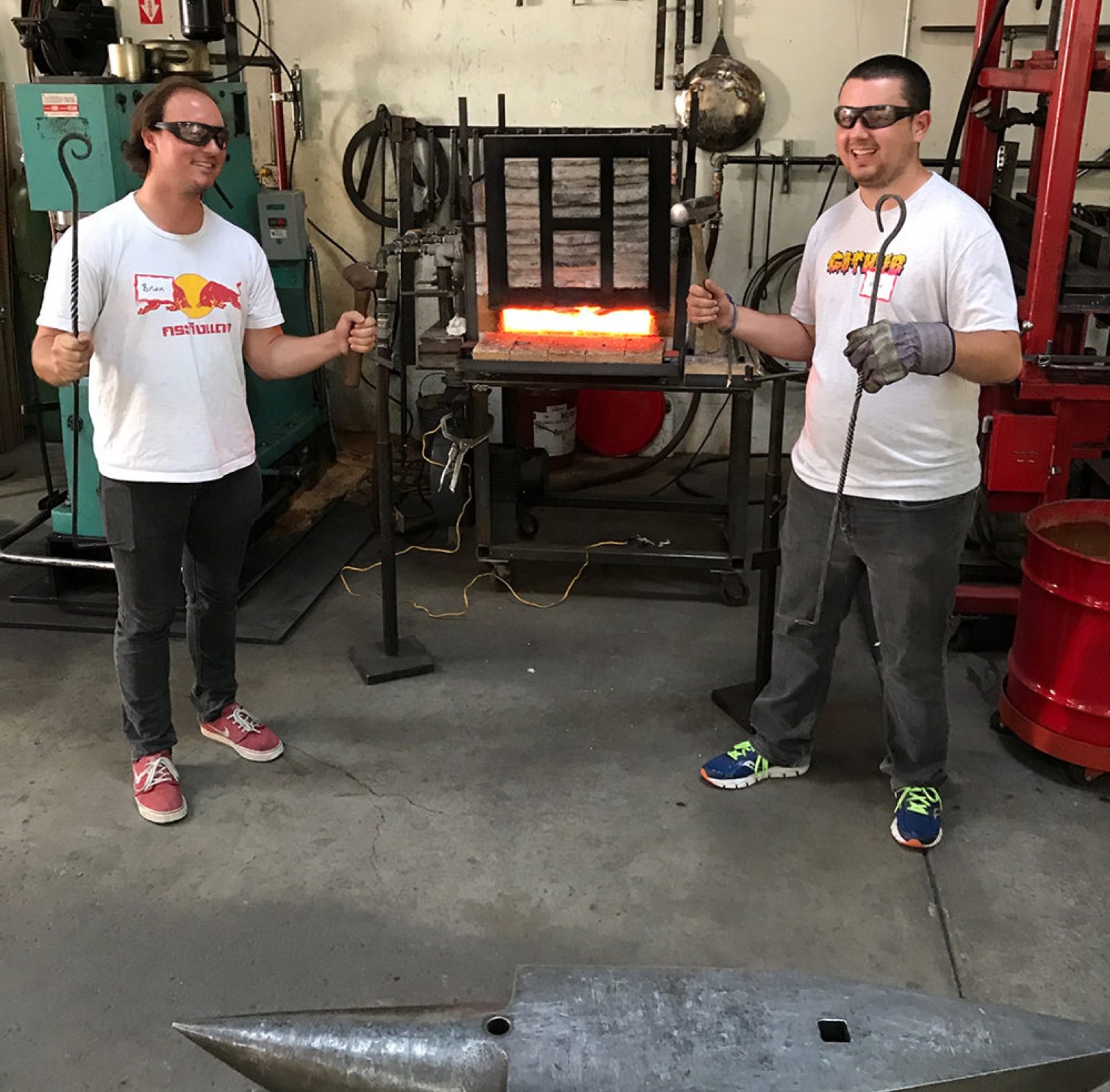 On the weekends I've been out and aboot exploring the bay area and experiencing the San Francisco culture (which involves eating a sufficient amount of burritos). In the short few weeks I've been here I've had the opportunity to visit the Golden Gate bridge, get locked up in Alcatraz, experience the SF pride parade, overlook SF from the top of the twin peaks, watch the 4th of July fireworks, meet a few CEOs for large Tech companies and much much more! During the first week some of the box interns, Joseph and I went to check out the computer history museum learning all about what got us to the modern electronics. One of following the weekends Joseph and I went urban geocaching which was a conduit to exploring some of the lesser visited areas in San Francisco. The geocaching had us traveling all over SF from Delores Park to the painted ladies to the castro. Another weekend Joseph, Chris, Kim and I went for a swim at Chrissy fields beach.. so I can officially say I've been swimming on the west and east coasts now! I'm excited to see what the next few weekends of adventure will bring!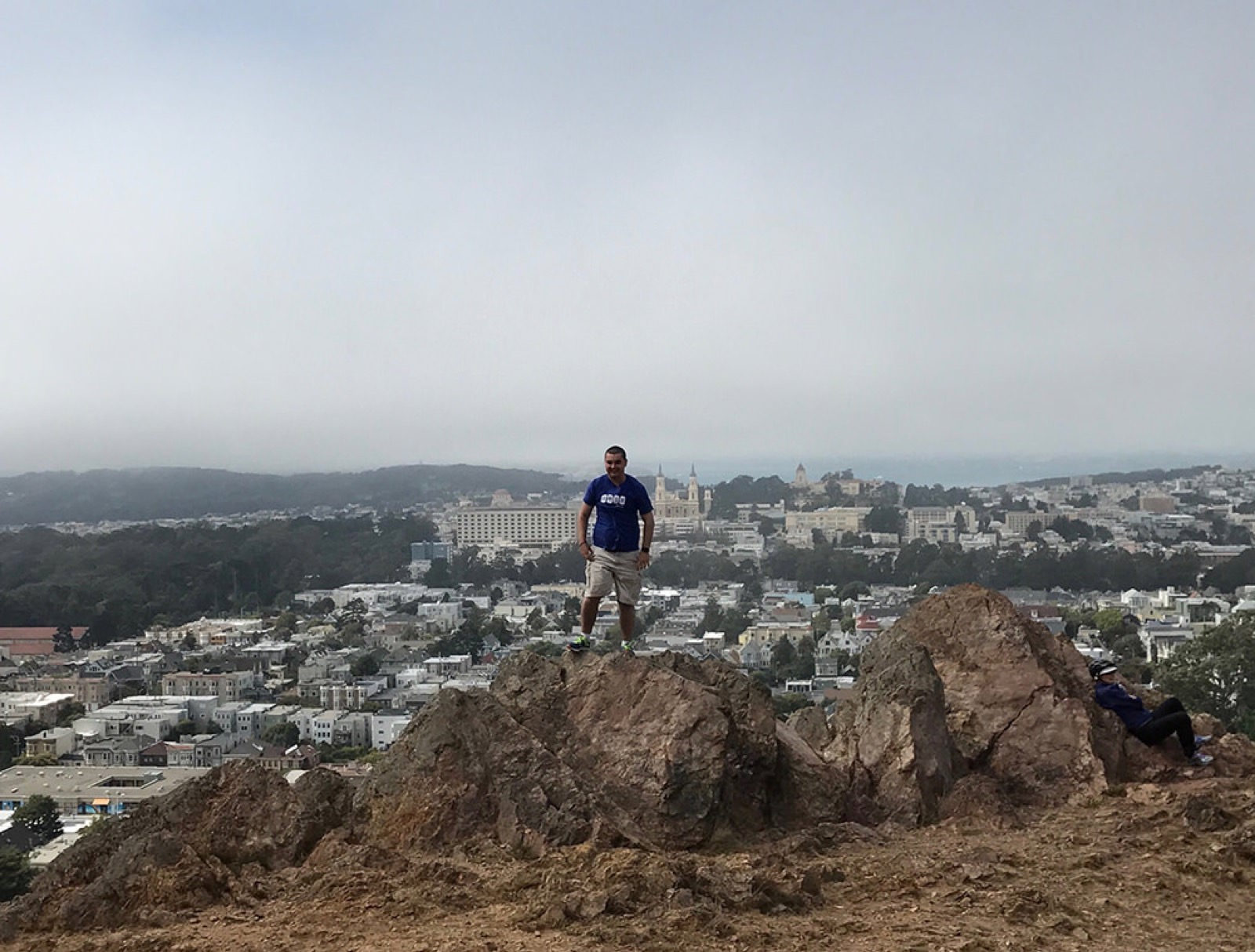 In summary this experience has been awesome so far and I would trade it for anything, check out some of these photos I took: